Désolé, la version française de cette page ne peut être offerte pour le moment.
Take Action in BC: Stop the GM Apple
This year or next, the small BC company called Okanagan Specialty Fruits could get approval in Canada and the U.S. for its GM "non-browning" apple, engineered to keep from going brown after being cut. Contamination from GM apples threatens the future of BC apples, and the farmers who grow them. BC apple growers have already rejected the GM apple and polls show 69% of Canadians oppose it! For more information on the GM apple please see https://cban.ca/apple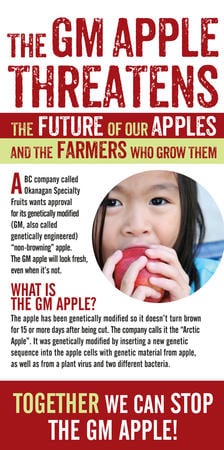 Take Action
BC Campaign Updates
BC grocery stores are beginning to sign the pledge not to sell the GM apple – already the list includes (May 12, 2014):
Freshpoint
Famous Foods
Sprout Organic Market
Nature's Fare
Edible Island Whole Foods Market
Fruit World
49th Parallel Grocery
Jim M Koo Produce
Rock Creek General Store
The Biggest Little Fruit Stand
Ellisons Market Cafe
Olives Community Market
108 Mile Supermarket
Kootenay Co-op
Choices Markets
Greens Market
Pomme
Eternal Abundance
East End Food Co-op
Sweet Cherubim
In May 2014, over 7000 signatures on a petition to stop the GM apple were presented in the BC Legislature, by Nicholas Simons, BC NDP Agriculture Critic. The signatures were collected in 20 communities. The Society for a GE Free BC is pressing the government to carry out its promised review of the GM apple. Press Release – May 26, 2014: BC government refuses to carry out its promised review of the genetically engineered apple.
On March 12, 2013, Lana Popham, BC MLA for Saanich South and NDP Agriculture critic presented the petition against the GM apple in the Legislature. Local groups collected 5536 signatures from over 19 communities including Campbell River, Comox, Courtney, Delta, Kelowna, Lake Country, Langley, Penticton, Powell River, Port Coquitlam, Rosedale, Salt Spring Island, N. Saanich, Saanich, Surrey, Vancouver, North Vancouver, Vernon, and Victoria! (Hardcopy original petitions can be presented by politicians!) « It is irresponsible for this government to stand idly by while a single commercial interest risks the excellent reputation of the entire BC fruit industry, » said Lana Popham.
BC Government Action
In 2013, the Union of BC Municipalities (UBCM) passed a resolution asking the BC government to prohibit all GM crops and animals.
The UBCM also passed a resolution in 2012 asking the BC government to legislate the prohibition of importing, exporting, and the domestic production of GM fruit. The province responded by saying it would review the issue. Click here to read the 2012 resolution and the Province's response.
"The Province recognizes that production of Genetically Engineered (GE) fruit trees and their products, including tree fruit and pollen, raises human and environmental health concerns in export markets. These concerns can negatively impact access to those export and some domestic markets for both conventional and organic products.
If the Federal Government were to allow unconfined production of GE trees and other fruits in Canada, the fruit production and sales could be significantly impacted. The Province will explore the complex GE fruit issue and the UBCM resolution to request legislation to prohibit the BC production, importation and export of GE fruit trees and their products. Upon completion of this review, the Province will provide UBCM with its findings."
What do BC growers say about the GM apple?
The BC Fruit Growers' Association has asked for a moratorium on review of the apple.
In 2001, BC apple growers stopped the GM apple from being field tested in Canada. The federal government agricultural station in Summerland in the Okanagan valley, an important fruit growing area, was preparing to start field trials but BC growers who were concerned about contamination stopped these field trials from happening. As a consequence, the company has tested all their apple trees in the U.S.

In September 2011, CBAN and organizations from across BC organized a series of public events to discuss genetic engineering. At an event in Keremeos, Lee McFadyen of Mariposa Organic Farm and the Live Earth Organic Growers Association pointed out that there are already several varieties of apple that are slow to brown, such as Ambrosia. On the GM apple, orchardist Andrea Turner of the Similkameen Okanagan Organic Producers Association said, "The tree fruit industry cannot afford anything silly like that". Read the concerns of the Similkameen Okanagan Organic Treefruit Growers Association, BC.