Désolé, la version française de cette page ne peut être offerte pour le moment.
Events
You can also subscribe to the CBAN News and Action List to receive event notices.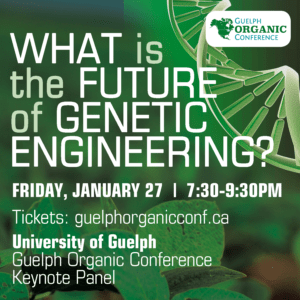 What is the future of genetic engineering?
Guelph, Ontario, January 27, Friday, 7:30-9:30
The opening panel to the Guelph Organic Conference – the public can register ($15 + HST)
Lucy Sharratt – Coordinator, Canadian Biotechnology Action Network (Ottawa)
Rene Van Acker, PhD – crop-weed ecologist and Dean, Ontario Agriculture College (Guelph)
Jonathan Latham, PhD – biologist, biopolitical theorist, and editor of Independent Science News www.independentsciencenews.org (Ithaca, New York)
Dianne Dowling – organic dairy farmer and president of the NFU Local 316 (Kingston, Frontenac and Lennox-Addington)
It has been twenty years since the first genetically engineered (also called genetically modified or GM) crops and foods were approved in Canada and the US. What do the next twenty years hold? What are the latest developments and what will the technology mean next for farmers, food and our environment?