Désolé, la version française de cette page ne peut être offerte pour le moment.
Events
Future GMOs – New Gene Editing Techniques
CBAN workshop at the Guelph Organic Conference
12:45-1:45 Sunday, January 27, 2019, Guelph, Ontario
Guelph Organic Conference, University of Guelph
Admission requires conference registration.
Join US-based former genetic engineer Jonathan R Latham, PhD, and editor of Independent Science News, as he explains the science behind these new tools and their risks. Facilitated by Heather Lee from the Toronto Non-GMO Coalition with insights from Dag Falck, Organic Program Manager at Nature's Path Foods, and Lucy Sharratt, Coordinator of the Canadian Biotechnology Action Network (CBAN).

Modified – Film Screenings
Watch the new Canadian documentary « Modified »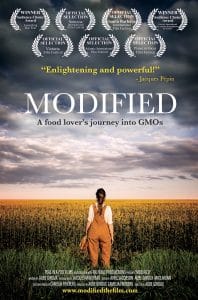 October 10 – Princess Theater – Waterloo, ON
October 12 – Wakefield Doc Fest – Wakefield, QC
October 16-21 – The Globe Cinema – Calgary, AB
October 22 – Kings County Museum – Kentville, NS 
October 25 – The Big Carrot – Toronto, ON
October 25 – Community Natural Foods – Calgary, AB
November 2 – Chisholm United Church – Chisholm, ON
November 13 – The Cinematheque – Vancouver, BC
Check listings for more details and more screenings in your area.
Modified is a first-person feature documentary that questions why genetically modified organisms (GMOs) are not labeled in Canada and the US, despite being labeled in 64 countries around the world. Shot over a span of ten years, the film follows the fight to label GMOs while debunking the myth that we need GMOs to "feed the world". The film's story is anchored in the relationship between the filmmaker and her mother, a passionate organic gardener and food activist who died of cancer during the film's production. The film is directed and produced by award-winning producer of « Kitchen Vignettes on PBS » and food writer Aube Giroux, executive produced by acclaimed producer Camelia Frieberg, and edited by Mike Munn, editor of the Oscar-nominated « Stories We Tell ». Modified is distributed by Blue Ice Docs and will be released in September 2017. Watch the trailer.