Désolé, la version française de cette page ne peut être offerte pour le moment.
Corporate Control
The markets for genetically engineered (also called genetically modified or GM) crops are dominated by six seed and agrochemical companies. The high level of corporate concentration in the seed market has already meant higher prices, limited choices for farmers, a narrowing of genetic diversity in crops, and stagnating innovation.
New Mega-Mergers
In 2015, companies Dow and Dupont agreed to merge (click here to read an analysis on impacts of this merger), and earlier this year, Chinese state-owned company ChemChina bought Syngenta. If regulators allow the Bayer-Monsanto merger and these other two mergers, the resulting three companies will control more than 65% of global pesticide sales and almost 61% of commercial seed sales. (Source: Merge-Santo: New Threat to Food Sovereignty, ETC Group)
German chemicals giant Bayer's record-breaking $66bn takeover of GM seeds corporation Monsanto would create the world's biggest seeds and pesticides company. The new company would control approximately 31% of the world's commercial seed market and 26% of agricultural pesticides.
Take Action
« Such a heavily consolidated seed and agricultural input industry makes it easier for cartel-like tacit collusion that raises prices for farmers and other buyers and ultimately consumers while stifling innovation that is propelled by healthy competition in the marketplace. Predictably, more concentration of power and less competition will lead to reduced responsiveness to documented farmer and consumer desire for ecologically sound technologies that are cost-effective and sustainable, meaning less choice in the marketplaces for seeds, inputs and foods. » – from a letter opposing the mergers signed by over 300 groups in the US.
The markets for genetically engineered (also called genetically modified or GM) crops are dominated by six seed and agrochemical companies. The high level of corporate concentration in the seed market has already meant higher prices and limited choices for farmers. Legal controls, such as patents on genetic sequences, have meant that farmers cannot reuse, save, share or sell GM seeds, but have to buy them from seed companies every year. Patented GM seeds are significantly more expensive than non-GM seed.
For information on the impacts of corporate control in seeds, see CBAN's GMO Inquiry report « Are GM Crops Better for Farmers? »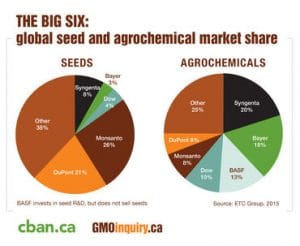 The six major companies developing and selling genetically engineered seeds are:
Dupont
Syngenta
Dow
Bayer
BASF
Collectively, these six companies control 63% of seeds and 75% of agrochemicals globally.
At least 70% of their research and development funds in seeds and crops are devoted to biotechnology and GE crops.
It is estimated that these six companies account for over 95% of all GE crop acres in the world (97% in 2007). Monsanto's GE traits are approximately 85% of the total GE acreage.
Since the first GE seeds were introduced in 1996, the market share of the world's three largest seed companies – Monsanto, Dupont, Syngenta – has more than doubled.
These six companies regularly cross license to each other, reinforcing their market power. About half of all commercial GE seeds with stacked traits are the result of cross licensing between companies.
Monsanto is the world's largest seed company and, as of January 2013, had filed 144 seed patent infringement lawsuits involving 410 farmers and 56 small businesses in 27 states in the US.
Resources
CBAN Report: « Are GM Crops Better for Farmers? » 2015
ETC Group tracks corporate consolidation and investments in the agriculture sector:
ETC Group, May 2015: Monsanto/Syngenta: From Gene Giants to Agribehemoths
ETC Group, March 2013: Gene Giants Seek « Philanthrogopoly » The report takes a look at how the 6 multinational Gene Giants control the current priorities and future direction of agriculture research worldwide.
ETC Group, December 2011: Who Will Control the Green Economy? This report connects the dots between the climate and oil crises, new technologies and corporate power. The report warns that the world's largest companies are riding the coattails of the "Green Economy" while gearing up for their boldest coup to-date – not just by making strategic acquisitions and tapping new markets, but also by penetrating new industrial sectors. DuPont, for example, already the world's second largest seed company and sixth largest company in both pesticides andchemicals, is now a powerhouse in plant-based materials, energy and food ingredients. Other major players like Monsanto, Syngenta, Dow, BASF and Unilever are making strategic investments in risky technologies in hopes of turning plant biomass into products and profit.
ETC Group, October 2010: Gene Giants Stockpile Patents on "Climate-Ready" Crops in Bid to Become Biomassters: Patent Grab Threatens Biodiversity, Food Sovereignty. Under the guise of developing "climate-ready" crops, the world's largest seed and agrochemical corporations are filing hundreds of sweeping, multi-genome patents in a bid to control the world's plant biomass. ETC Group identifies over 262 patent families, subsuming 1663 patent documents published worldwide (both applications and issued patents) that make specific claims on environmental stress tolerance in plants (such as drought, heat, flood, cold, salt tolerance). DuPont, Monsanto, BASF, Bayer, Syngenta and their biotech partners account for three-quarters (77%) of the patent families identified. Just three companies – DuPont, BASF, Monsanto – account for over two-thirds of the total. Public sector researchers hold only 10%.